6 CASUAL HANGOUT IDEAS FOR A NON-DATE DATE – AND WHAT TO WEAR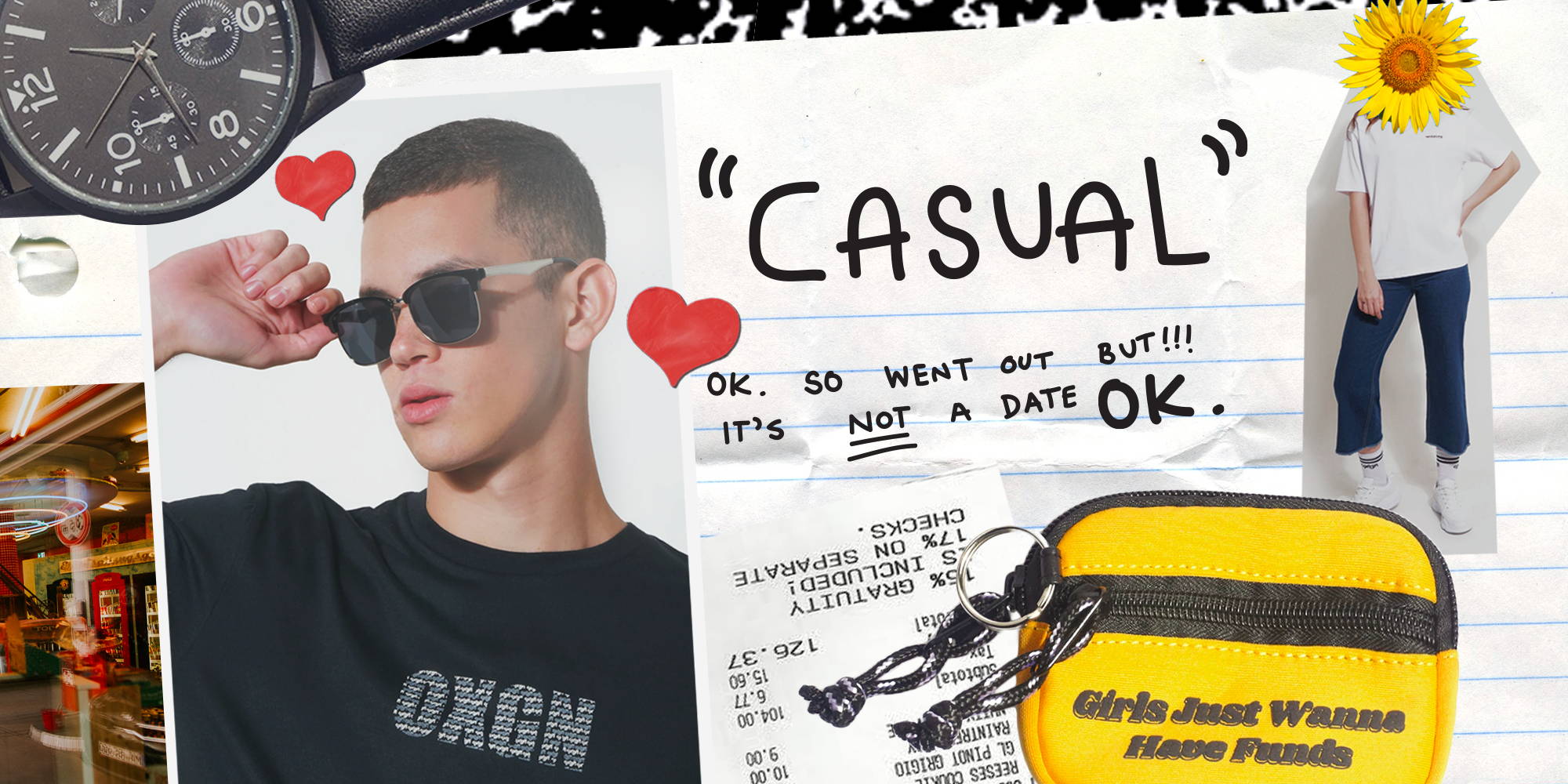 If there's any universal truth that withstands the test of time, it's that dating is hard. You'll never know if the person you're seeing is as into you as you are with them. The last thing you need is them calling you out as coming on too strong… or worse, flat-out rejecting you. Swell thing we picked out these six totally casual "hangout" ideas and looks that'll keep you at the friend zone… for the time being, that is.
Do duet duels at a karaoke bar
Nothing takes off the pressure of a date like singing your heart out to the mic and secretly to your date, too. The karaoke date will probably be a group thing so try to keep it on the lay-low with a dark and classic fit. Don't be afraid to suggest pair up with your date for a duel off – it'll give you an excuse to sing that romantic song together. Just try not to blush so hard though!
Book some alone time to study
Flip books and chill? One of the most brilliant lines ever said that would have anyone say yes is "Wanna ace the test together?" You come off suave, smooth, and something of a brainiac genius. Besides keeping your mind sharp, make sure you look it, too! Throw on an easy styling dress and a bum bag just in case you need to whip out your notes… or your number.
Strike up sparks at the bowling alley
Having a total knockout date can really have you trembling all over with nervousness. That's why a bowling date is the perfect solution for your giddy grooves and grumps! Muster up all your anxiety and throw it down for a perfect strike instead. Pop your collar with those sleek moves and your equally slick hair. Your date will definitely pin your number for a next game night.
Play your moves at the arcade
Being around your casual date all the time, you can't help but have your eyes locked on 'em – which is why an arcade hangout is the perfect play-tonic partnership! Spice up the fun with a graphic tee and cute khaki skirt to match. Add in a spunky coin purse for all the tickets you won together. Maybe they'll make you choose a not-so-platonic prize for keeps?
Partner up in a pop concert
Let's face it: the real reason why you like your date so much is because you guys have a lot of things in common – music ain't an exception either. Go ahead and rock out with 'em to a hot-blooded jam sesh with your similarly favorite pop star. More excuses to rub elbows with one another during the peak of the concert hype and tip the friendship to your favor while you're at it. Style your look for some slick moves: a bomber jacket to offer them just in case it's too chilly and a bucket hat they can steal from you for an Insta-worthy selfie. Totally sure an encore date night is just seconds in the making.
Set a match at a board game café
Dating is all about the game of luck. Will your date understand your pheromones and romantic wavelengths? Or will they think of it as another playful homespun act of friendship? Test out how well you can play it out with a casual board game date. Let the hilarity and romance ensue with every roll of the die, swipe of the card, and joking slap on the shoulder. Spray a lil' Wild Love while you're at it and get a chance to win someone's heart in a heated match!
Did these low-key looks get your heart thumping? Stash more date-worthy styles on oxgnfashion.com!
---