"Don't just buy whatever you think looks good. Let your taste develop."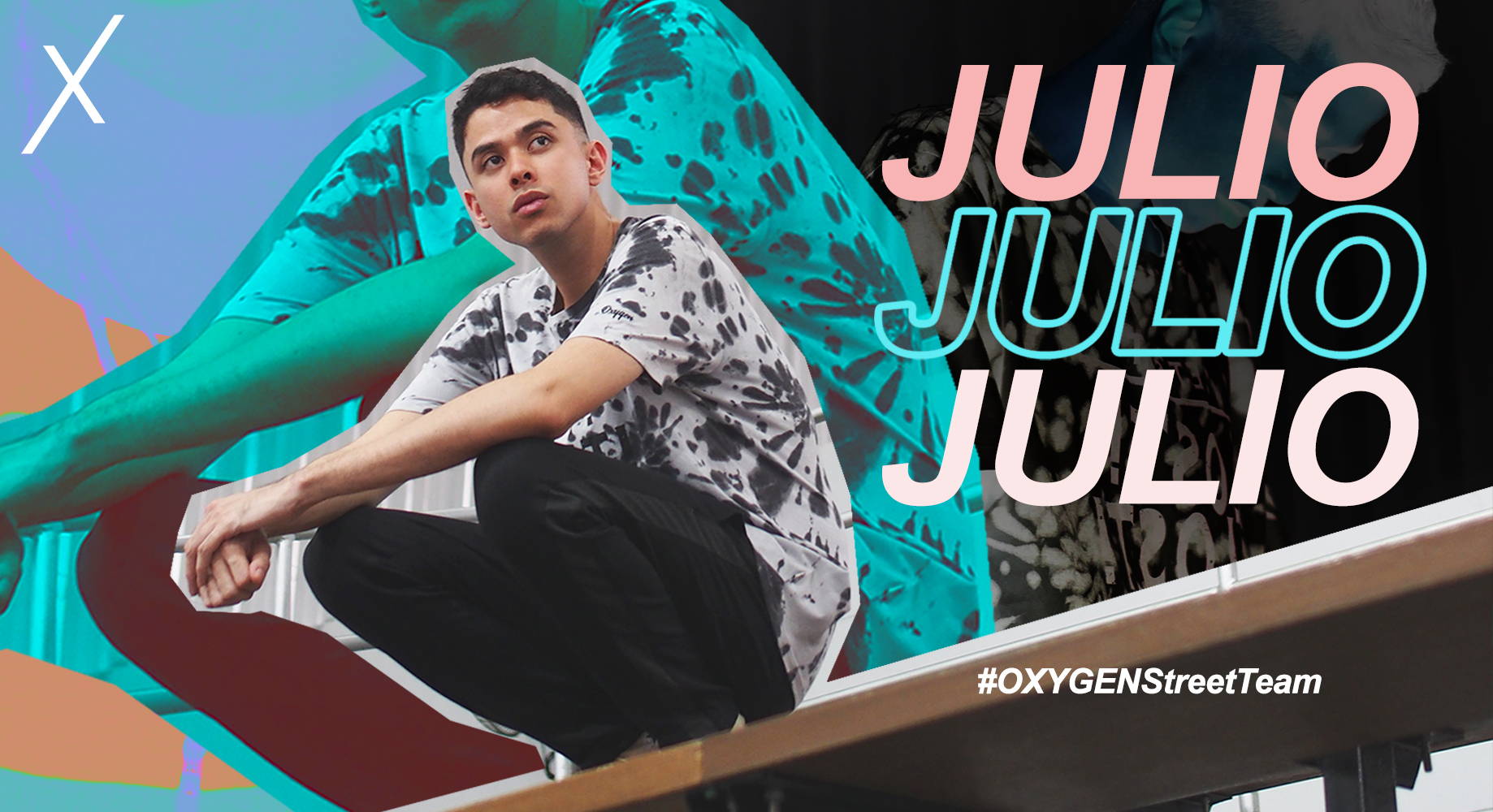 Contrast is a recurring theme in Julio del Prado's life and style. When this Lit major isn't busy with school, you can find him working in a suit shop occasionally daydreaming about jazz (he plays the drums), ukay hopping in Cubao, or talking to the Oxygen team about the wardrobe basics he might mix with his streetwear finds. Read on:
OXYGEN: We heard you're a shop boy. Where do you work?
JULIO: I have a part-time job. I work in a tailoring workshop in Legazpi Village. It's more like casual suiting. But we also do of course the tuxedo and the three piece. They have me handle social media and occasionally talk to customers about the fabric, to point customers in a direction. We have a couple of hundred swatches in a book - if you do it one by one it will get too long.
OXYGEN: What do you do for fun?
JULIO: I really like to go thrift shopping - ukay ukay. When I had more time, I really used to do it often, a couple times a week at my worst. On the way home from school, I go to one or two or six. Depending on how much time i have.
OXYGEN: What are your top ukay ukay spots?
JULIO: I don't believe in a top ukay ukay spot. Because part of it is the fun of not knowing what you're gonna find. There will be days that you will get nothing at all, and there will be days that you will walk into one and leave with a bunch of things. It's almost like a less severe gambling.
OXYGEN: How do you decide where to go? Or is it kind of casual - like oh, I'm in Cubao area, maybe I'll check this out.
JULIO: Yeah maybe I'll check a few. In Cubao alone, I can think of like twelve. Most of them are kind of hidden off - Aurora side or in random buildings. And I'm also on the text list for a lot of ukays. You can have them tell you if they have new arrivals. And they will text you. So if I'm free on the day of new arrivals, I will go.
OXYGEN: Do you like music?
JULIO: I play drums, up to about last year I was a very active musician.
OXYGEN: Were you in a band or something?
JULIO: At my busiest I was in 4. I'm mostly a jazz drummer. I like to think I'm pretty good at it. I mean I played gigs in Hong Kong and stuff. But I had to make a very serious decision to sort of put it on the back burner. Stop for a bit just because it was eating a lot of my time. I told myself that I'll stop and focus on school first.
OXYGEN: Do you think your music has influenced your style somehow?
JULIO: I think so yeah. When I'm playing jazz, there's a lot of off-the-cuff improvisation of things. So I like a little bit of wackiness, which is kind of like how I like to dress. Generally speaking I prefer slightly quirky clothes.
OXYGEN: Has that always been the case?
JULIO: Before I started getting heavy into clothes, I tried to be really frugal, I didn't really want to be spending all my money on clothes. I wanted to save, I was buying other things, I wanted to eat. I think it's important when you start to build your wardrobe, don't just buy whatever you think looks good. Give it some thought. Let your taste develop. Cause as you're learning about clothes you'll kind of change how you dress. Like I had a phase where I dressed exclusively in black, white and gray. This was back in like first year college. Now I kind of want to dress like a funny grandpa.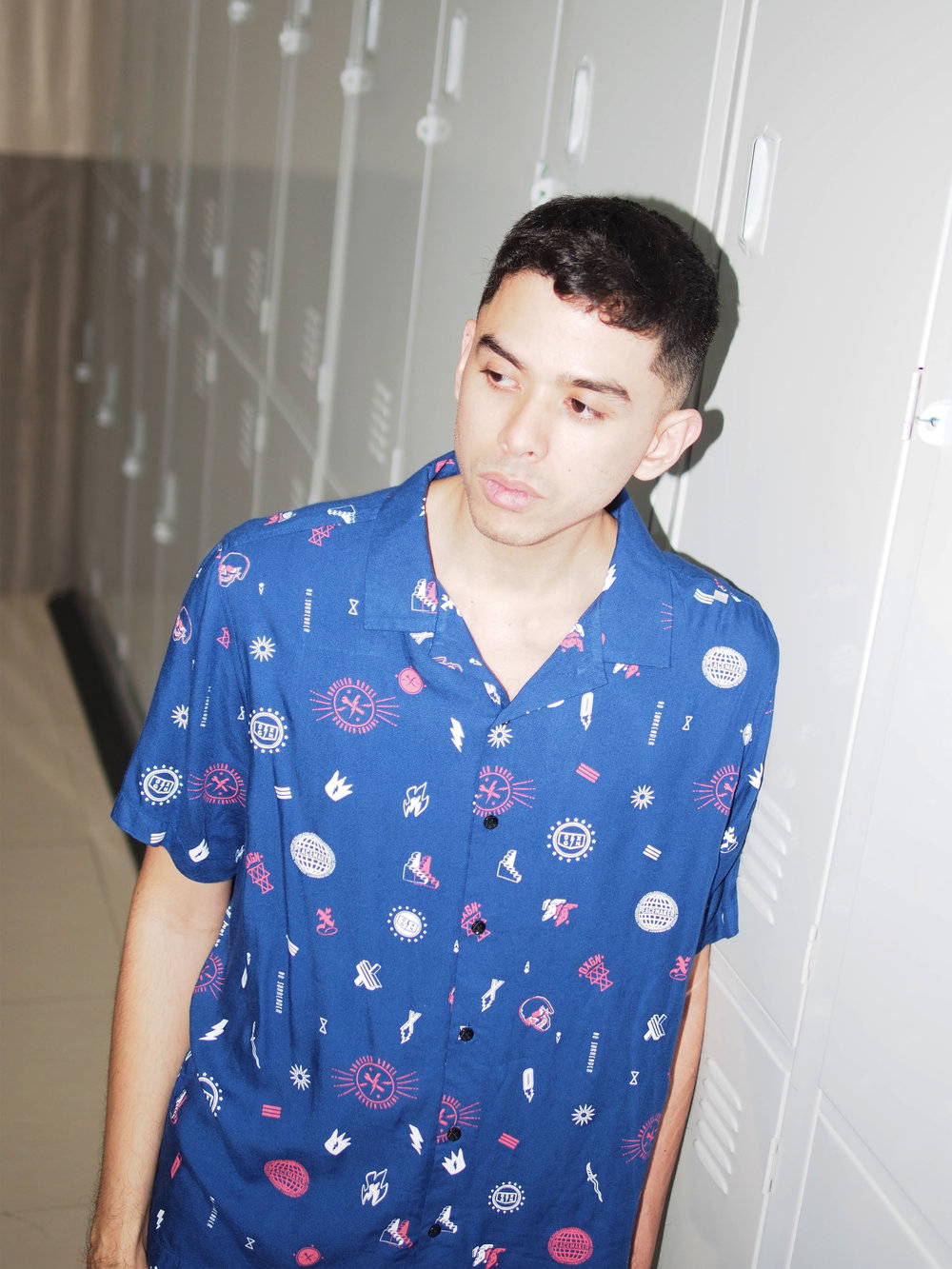 JULIO WEARS OXYGEN MEN'S PRINTED RESORT SHIRT IN BLUE (P999)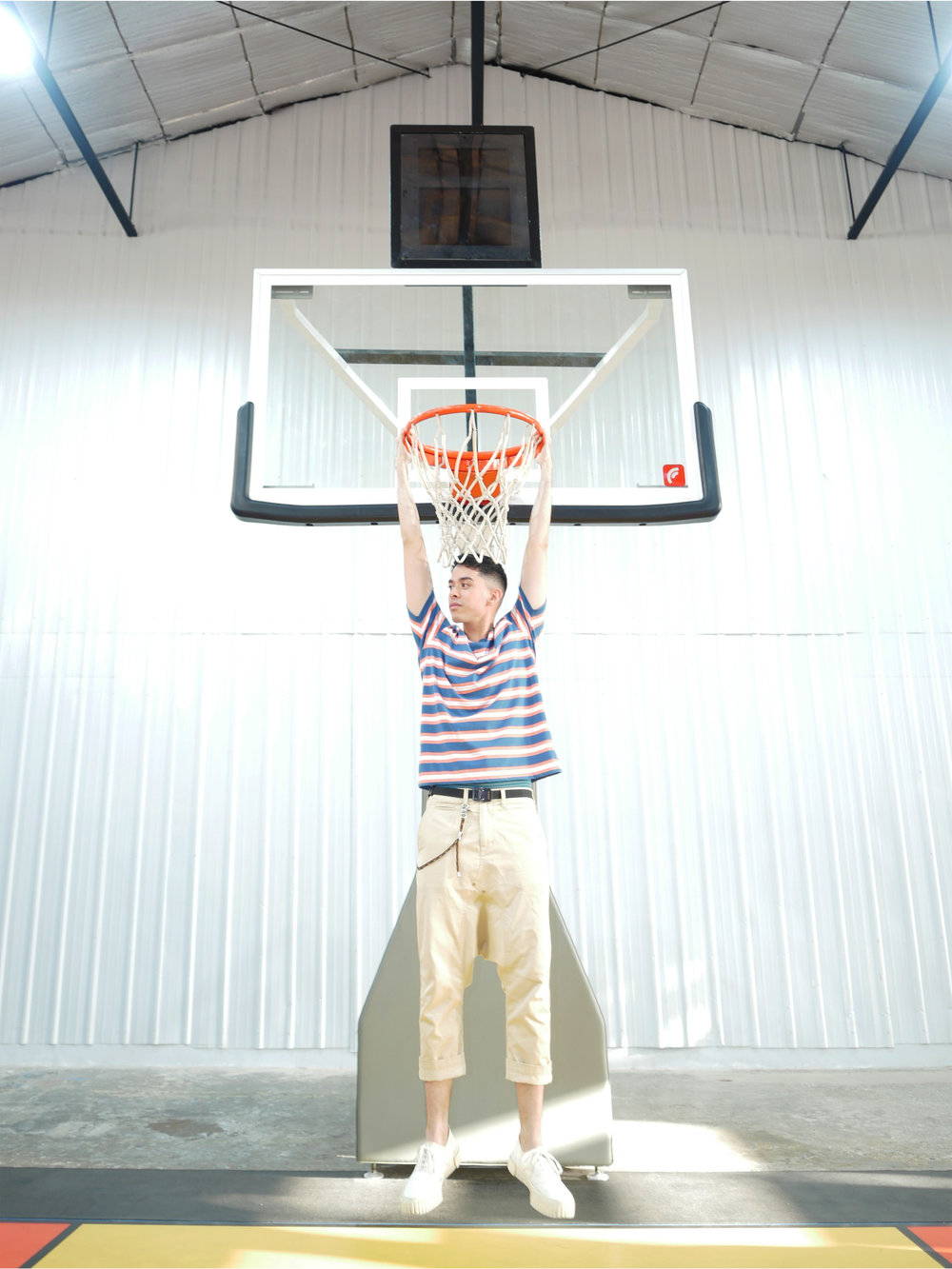 MIX IT UP: JULIO TEAMS HIS SIGNATURE DROP CROTCH PANTS WITH OXYGEN'S EASY STRIPED TEE (P599)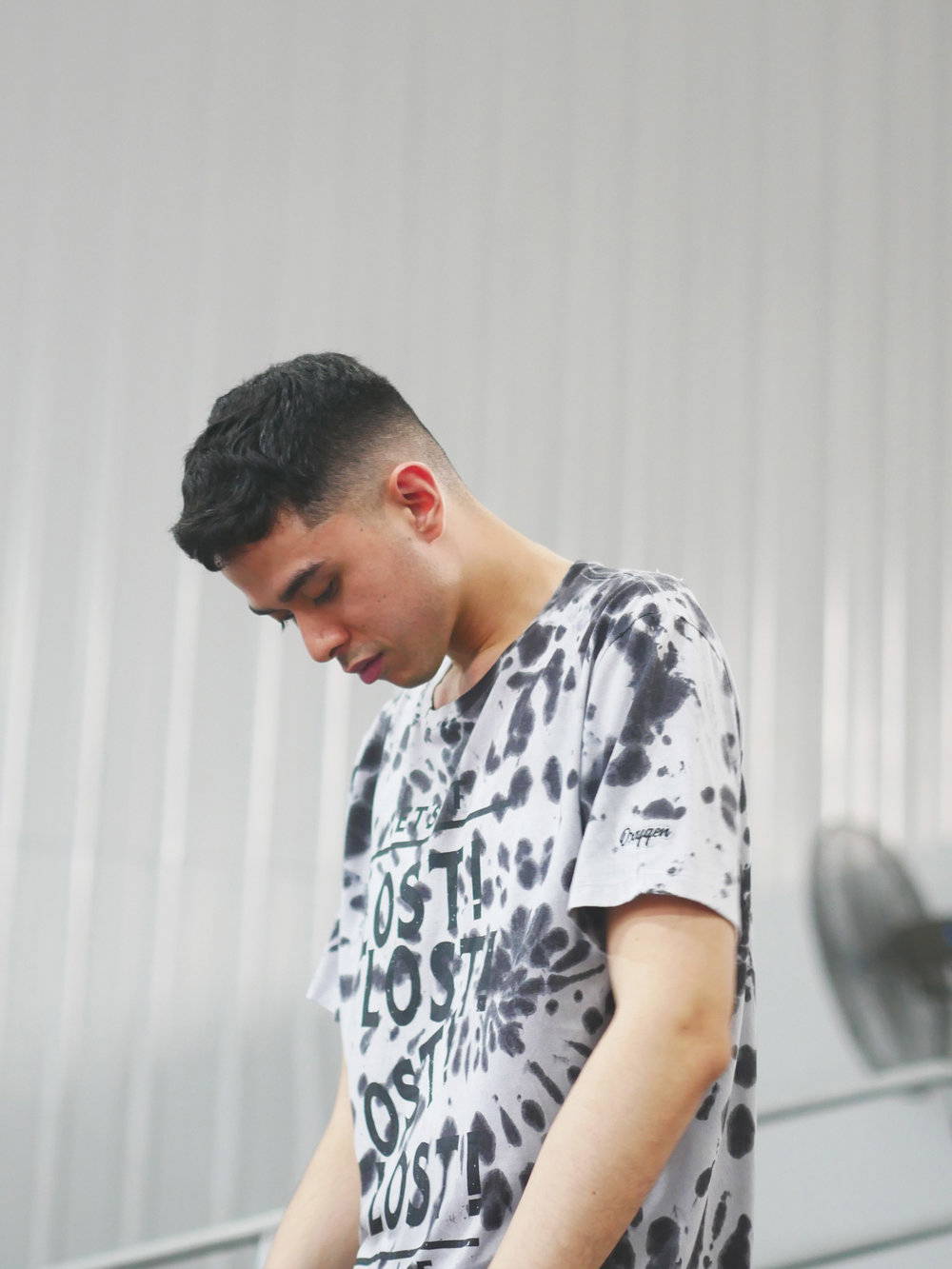 JULIO WEARS OXYGEN MEN'S TIE-DYE SHIRT (P499)
"WHEN YOU START TO BUILD YOUR WARDROBE,
DON'T JUST BUY WHATEVER YOU THINK LOOKS GOOD. GIVE IT SOME THOUGHT. LET YOUR TASTE DEVELOP."
OXYGEN: How did it transition from there?
JULIO: Definitely, the Internet. I just like to do research on my own. I get lost in the Internet. I really really like Japanese styling. That's my number one thing. I'm currently following a thousand plus people on instagram, I have a suspicion that half of that are Japanese blogger types or Japanese retailers.
OXYGEN: What's your favorite fashion decade?
JULIO: I like some of the 90s. Cause I'm a 90s kid, I wear a lot of big button downs, elephant pants and boots - Timberlands. Sort of like hip-hop-y. I like a little bit of the 80s but I also have a weird thing for railroad worker wear. Especially like industrial America workwear.
OXYGEN: What pants do you go for?
JULIO: I think it depends on how you want to dress. Not everyone I know is gonna wear pants where the crotch goes down to the knees like what I'm doing. Some people might prefer skinny pants or regular fit pants. I know a lot of guys who have just all skinny, just all slim, just all tapered. But I think having more than just one fit is important. Pants can do a lot for the whole outfit - do a lot with how the shirt looks like, what kind of shoes you're gonna wear. So yeah, I think it's important to have some variation. I wear a lot of cropped pants 'cause of my height.
OXYGEN: Um... how hard was it to hang on the basketball hoop?
JULIO: It wasn't that hard. It was easier than I expected.
PHOTOGRAPHED BY MONG ALCARAZ ANSWERS HAVE BEEN EDITED FOR LENGTH AND CLARITY.
---